2018
Inhibition of cell fate repressors secures the differentiation of the touch receptor neurons of Caenorhabditis elegans.
2017
Distinct effects of tubulin isotype mutations on neurite growth in Caenorhabditis elegans.
2016
GEFs and Rac GTPases control directional specificity of neurite extension along the anterior-posterior axis.
Caenorhabditis elegans paraoxonase-like proteins control the functional expression of DEG/ENaC mechanosensory proteins.
MEC-10 and MEC-19 Reduce the Neurotoxicity of the MEC-4(d) DEG/ENaC Channel in Caenorhabditis elegans.
Securing Neuronal Cell Fate in C. elegans
2015
Hox Genes Promote Neuronal Subtype Diversification through Posterior Induction in Caenorhabditis elegans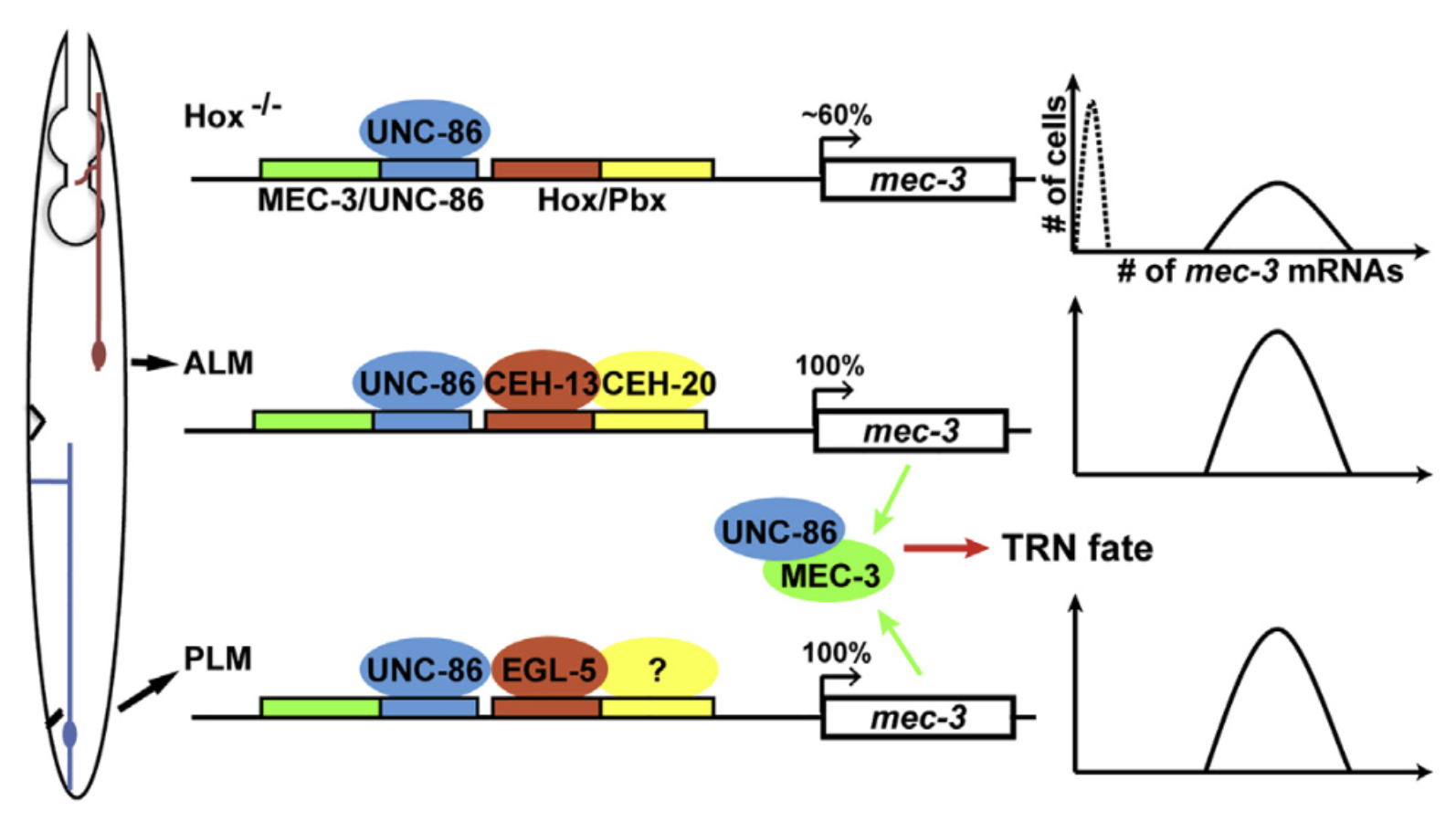 Hox Proteins Act as Transcriptional Guarantors to Ensure Terminal Differentiation.
Dishevelled attenuates the repelling activity of Wnt signaling during neurite outgrowth in Caenorhabditis elegans.
Subunit composition of a DEG/ENaC mechanosensory channel of Caenorhabditis elegans.
Regulation of mechanosensation in C. elegans through ubiquitination of the MEC-4 mechanotransduction channel.
Identification of nonviable genes affecting touch sensitivity in Caenorhabditis elegans using neuronally enhanced feeding RNA interference.
2014
Modulation of C. elegans touch sensitivity is integrated at multiple levels.
2013
Histone methylation restrains the expression of subtype-specific genes during terminal neuronal differentiation in Caenorhabditis elegans.
2012
Genetically separable functions of the MEC-17 tubulin acetyltransferase affect microtubule organization.
2011
Shared gene expression in distinct neurons expressing common selector genes.
The DEG/ENaC protein MEC-10 regulates the transduction channel complex in Caenorhabditis elegans touch receptor neurons.
Caenorhabditis elegans aristaless/Arx gene alr-1 restricts variable gene expression.
Microtubule depolymerization in Caenorhabditis elegans touch receptor neurons reduces gene expression through a p38 MAPK pathway.
2010
Enhanced neuronal RNAi in C. elegans using SID-1.
No results
There are no publications with the provided filters.